Basketball party ideas and advise for sports themed parties and events
Having a Basketball themed party or event can be easy with
inflatable basketball games
or portable basketball hoops found at event rental companies like Gravity Paly Events in Denver Colorado.
Sports themed parties are great for private parties, carnivals and sporting events. They can also help promote attention to grand opening celebrations and family gatherings because they are portable and colorful.
Here is an example of a really nice inflatable basketball game.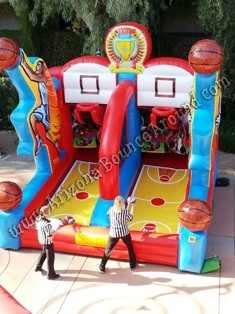 Helpful Basketball Information
Basketball is a sport loved by millions and played all over the world by kids and adults. To some it is an obsession and others it's just a sport. Professional players must work to give their fans something to cheer for. Each team member has contributions to make so take the time to assess your skill and what you can improve on and get to practicing today. These suggestions will help you to improve your ball playing skills.
Practicing with your team is important, but don't overlook the value of daily practice on your own. Set up a daily practice time for yourself and stick to your schedule. Practice footwork, shooting, and dribbling. It is also important to include strength training and endurance training in your practice schedule.
When dribbling, try to keep the ball low to the ground. This makes it more difficult for opponents to steal the ball away from you while dribbling. Keep the ball low and pass it from hand to hand while weaving in and out through your opponents. This will help you maintain control of the ball.
Work on flexibility. Flexibility is very important during basketball. This is because you may have to stretch to grab a ball that is in the air. Additionally, increased flexibility helps protect your tendons and joints from the damage caused during this fast playing sport. Do flexibility exercises often and always stretch before beginning any game.
In order to handle the ball correctly, spread your fingers out. You will have better luck holding onto the ball as well. You should avoid having your palm touching the ball. Only your fingers should touch it during a pass or when dribbling.
To play solid defense, if you are guarding the person with the ball, keep your eyes on the basketball. If you look at his eyes instead, he will fake a pass one way, just by looking in that direction, and then dribble around you the other way. The ball can't lie about where it's going.
Use two hands when trying to make shots. Have both thumbs on the ball so that they are almost touching. Put the ball over your head but be sure you are able to see what you are aiming for. When you shoot, aim for the backboard or give it a backspin by rolling your hands down while shooting.
As you attempt to keep up your skills in the off-season, make sure you have fun with your fitness routine. Mix things up and include workouts that focus on endurance, strength and basic basketball skills. When the new season rolls around, you will feel sharp and be ready to go!
There are many ways to fine tune your skills. When you're the best player that you can be, you'll help to make your team better. From the concession stand cashiers to the referees, everyone plays an important role in the game of basketball. The player's role is to give the team his all. The tips shared here can help you when it comes to knowing more about this fun sport.