Giant Slip N Slide Events in Colorado
Prescott residents just got a taste of what Flagstaff and Phoenix residents are well familiar of: sliding through the city on a water slide of epic proportions.
Serving as the main attraction for the first annual Northern Arizona Monsoon Festival, a
735-foot inflatable water slide
was set up on Union Street in downtown Prescott.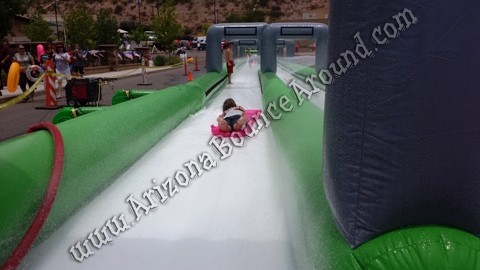 The slide dropped two-and-a-half city blocks into a pool of water on Cortez Street right at the foot of the Yavapai County Courthouse.
To complement the slide, 1,000 tons of sand was dumped nearby to form a massive sand bar. Food and drink vendors were present with live bands providing entertainment.
Some of the proceeds from alcohol sales were donated to the Boys & Girls Clubs of Central Arizona.
Flagstaff and Phoenix have been hosting similar events in recent years through an organization called Slide the City. This one, however, was of Steve Gottlieb's design.
"We've never done this before, so we hired the best firm in the state to do it, Gravity Play Events," said Gottlieb, who owns and manages Eagle Entertainment and Events.
Though he reserved the day months ago, he probably couldn't have picked a better weekend to host the ambitious venture.
Arizona is currently experiencing near record heat for this time of the year.
Additionally, this is one of the few summer weekends in Prescott that a major event isn't taking place on the Courthouse Plaza; therefore freeing up downtown parking and allowing festival attendees to dry off on the plaza's grass without tents and booths taking up all of the available space.
Organizers applied a liberal amount of soap and baby oil to make the slide faster. Prescott Fire Department provided water from a hydrant valve to give the slide a bunch of water.
Attendance quickly swelled as the event got later. "We're starting to see some good foot traffic," said Gottlieb about two hours into the 12-hour event.
Good thing for Gottlieb too, for the event wasn't cheap to produce. The budget for the slide alone was $10,000, Gottlieb said.
As of the day of the event, he said he intends to do it in years to come.